This is a Sponsored post written by me on behalf of National Peanut Board for SocialSpark. All opinions are 100% mine.
Crockpot Oatmeal Peanut Butter Parfait
In our home, mornings are the most hectic time of the day. With 3 kids going to school and a husband that goes to work, I always find it hard to do everything that I have to do in the morning. It doesn't help that I also stay up late most of the time to do my work. Even on weekends we have to always be in a hurry because of soccer practice and other activities. But no matter how hectic our schedule is I make it a point to make sure that I feed my family a nutritious breakfast to help power up their day and fuel them with energy to do everything they need to do.  Studies have shown that people who enjoy a higher protein breakfast (35 grams) felt fuller, had fewer cravings and ate fewer high-calorie snacks at night compared to eating a lower protein cereal or skipping breakfast. To save time, I love doing make ahead breakfast recipes because I can do it for a few minutes at night and in the morning I'm assured that my family has a yummy and filling breakfast.
Making time for breakfast and choosing to incorporate ingredients like peanut butter which is high in fiber, protein and good fats can play a role in maintaining your diet. This Crockpot Oatmeal Peanut Butter Parfait recipe is a very easy to prepare breakfast that is not only nutritious but it taste good too, kids and adults will love it.
Crockpot Oatmeal Peanut Butter Parfait Recipe
Ingredients:
3 cups Old Fashioned Oats (NOT Quick Oats)
8 cups of Water
1/4 cup Brown Sugar
1 tsp of Vanilla
To make the Crockpot Oatmeal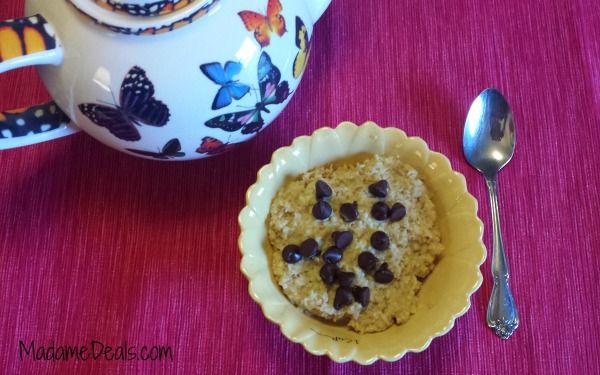 In the Crock Pot I combined 8 cups of water and 2 cups of the Oats. I gently stirred in the brown sugar and added about 1 tsp. vanilla . Then set it on low for 8-9 hours so either set it to cook this long or put it on right before bed time.
To make the Peanut Butter Parfait:
1. Slice one apple
2.  Put t
wo generous scoops of vanilla yogurt
3. Put 2 TBSP of Peanut Butter
4. Add two generous scoops of crockpot oatmeal
September is Better Breakfast Month. Did you know that eating breakfast has been associated with weight loss and weight loss maintenance, as well as improved nutrient intake? Yes, that's why it's the most important meal of the day and everyone should not skip breakfast.
Peanut butter is a great addition to mornings because it is a natural, plant-based source of eight grams of protein and more than 30 essential nutrients and phytonutrients. It's very nutritious and affordable too and since 90 percent of American pantries contain one or more jars of peanut butter, it's an easy go-to ingredient to help make breakfast quick and convenient. I highly recomment that you take advantage of the power of Peanut Butter for Breakfast by incorporating it to your daily breakfast!
Here are some cool FUN FACTS about peanut butter:
It takes about 540 peanuts to make a 12-ounce jar of peanut butter.
The world's largest peanut butter factory churns out 250,000 jars of the tasty treat every day.
Peanuts contribute more than $4 billion to the USA economy each year.
Americans spend almost $800 million a year on peanut butter.
The average American consumes more than six pounds of peanuts and peanut butter products each year.
The average child will eat 1,500 peanut butter and jelly sandwiches before he/she graduates high school.
Americans consume on average over 1.5 billion pounds of peanut butter and peanut products each year.
Peanut butter is consumed in 90 percent of USA households.
Americans eat enough peanut butter in a year to make more than 10 billion peanut butter and jelly sandwiches.
National Peanut Board (NPB) is a commodity board representing America's peanut farmers. Peanuts are the top nut choice and a nutritious and affordable option for families. For more info Follow them on Twitter and Like them on Facebook.
Ready to win a prize?
Win a NPB Prize Pack: Includes $25 Walmart Gift Card, a Peanut Butter Coupon & a bag of peanuts.
Please wait for the rafflecopter to load below.